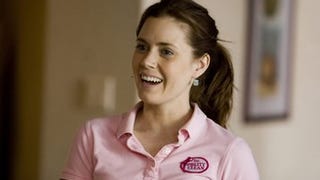 Today, the estimable Jessica Grose asks something many of us have wondered: do Teen Moms shows really discourage teen pregnancy - or just exploit for our entertainment? (And is it bad that they make me want a kid?)
Serial memoirist Mary Karr has a new book out, and in a Double X interview she shares some interesting insights about women's autobiographical writing — and some annoying shit about how much god likes her.
Why are we so freaked out by moms social networking? Besides, you know, that one photo.
This past weekend, our own Jessica Grose explored (again!) the world of consumer brand dedication with Living Oprah blogger Robyn Okrant. Though Okrant seems aware of the absurdity of her experiment, she does eventually fall prey to the seductive world of O's special type of branding. Okrant's husband observes that…
Yesterday Jessica and I went to see the musician Liz Phair play an intimate concert in commemoration of the 15th anniversary of the highly underappreciated cult album Exile In Guyville. The crowd was somewhat disappointingly subdued, chiefly because they couldn't really sing along word-for-word as one usually does in…
Last night Cosmopolitan editor-in-chief Kate White held a chat at the 92nd Street Y. Did you know she was once a waitress at a Howard Johnson's? It was there that she met a very naughty co-worker who let her in on a secret: sometimes, to get what you want, you have to break the rules. For instance, as employees they…
We like to put shit on the pretty bitches of America — those women also known as Jessicas — but that didn't stop us from hiring one of them. Please welcome Jessica Grose, our new associate editor. Jessica comes to us via Radar (they steal one of ours, we steal one of theirs - it's only fair) and has written and…