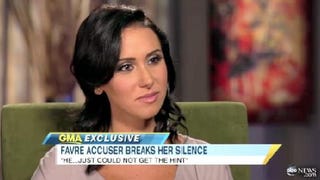 In a somewhat depressing interview with Good Morning America, Jenn Sterger was forced to reiterate that she did not ask for and was not flattered by pictures of Brett Favre's dick.
After an "investigation" into the Jenn Sterger affair, the NFL has ordered Brett Favre to pay a $50,000 fine. "Today's decision is an affront to all females," said Sterger's lawyer. "The NFL remains the good old boys' league."
Brett Favre didn't want his alleged-cockshot-sending advances to be one-sided, despite the fact that they were manifestly unwanted. So, according to TMZ's sources, he asked for a video of the Jets employee masturbating. She declined!
Brett Favre has admitted to leaving flirtatious voicemails for then-sideline reporter Jenn Sterger — but he says he never sent her pictures of his dick.
Jenn Sterger, Brett Favre's alleged sexting victim, will have a cameo in the film Don't Fade Away with Mischa Barton, Ryan Kwanten, and Ja Rule. She also has a small part in the upcoming horror movie The Tenant.
The story of Jenn Sterger, who allegedly received unwanted pictures of Brett Favre's dick, raises a disturbing question about sports sex scandals: are we more likely to support the victims if they're unwilling to come forward?