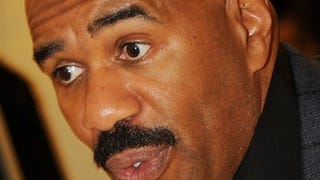 "Unless men change, I will not write a book for men, because I don't want it just sitting on the shelves," he told Latoya Peterson. Also discussed: The media's obsession with black women's love lives as well as interracial dating.
Meet J.C. Davies! She's a blogger, former investment banker, and the author of a book about inter-racial dating. In it, she addresses questions including, "Are Jewish men really cheap?" and "Are all Indian men well versed in the Kama Sutra?"
In The Great State of Georgia, Raven will play Georgia, a "big, confident, curvy girl who can sing very well."
Jill Scott has stirred up a debate between Essence readers after discussing her views on interracial dating with the magazine, stating that she "felt a little wince" when her African-American friend told her he had married a white woman.
1. White men are only consolation prizes. 2. Reference Something New. 3. Mention all her friends are doing it. 4. Ignore all other ethnicities/races. 5. Reinforce the only alternative is to die alone. [Washington Post]
This weekend, HBO aired Chris Rock's new stand up special Kill the Messenger. It was filmed in Johannesburg, New York, and London, which was a little disconcerting at times. Naturally, there were a lot of jokes about the upcoming election ("George Bush fucked up so bad, he made it difficult for a white man to become…
Monday, Nadra Kareem wrote about interracial dating for the blog Racialicious. Specifically: "Dating With A Vengeance." A few years ago, Ms. Kareem saw a comment on the IMDB page of actor John Cho. Someone wrote, "I hope he dates a white girl." Ms. Kareem explains: "The commenter, presumably an Asian male, explained…