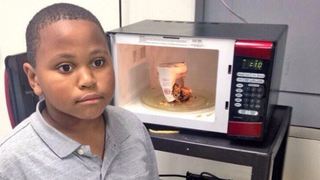 That sound you hear? The one that sounds like glass breaking softly into a thousand pieces? That's this kid's innocence being crushed into the fine dust that will settle on him as unending disappointment. Because today this boy became a man. Today, he's 300% done with life. This kid? He. Can't. Even.
Imgur, the photo-hosting site that is a direct feeder to Reddit is an excellent way to waste some time. It features awesome pictures and some pretty funny commentary. But it's also home to misogyny and some disturbing treatment of women, and one user is standing up to the catcalls and threats of dick pics with…
Earlier this week, Janna Holm posted images of a coded note card that her grandmother had created just before her death 18 years ago. Holm was certain that her grandmother, who died of cancer, was using these cards to communicate in some kind of secret code, but neither she nor her siblings could figure it out. When…
Just in time for tonight's U.S. premiere on PBS (ARE YOU FREAKING OUT YET???), we now have these awesomely hilarious pics of Benedict Cumberbatch falling into just about anything and everything you could possibly ever imagine and then some.