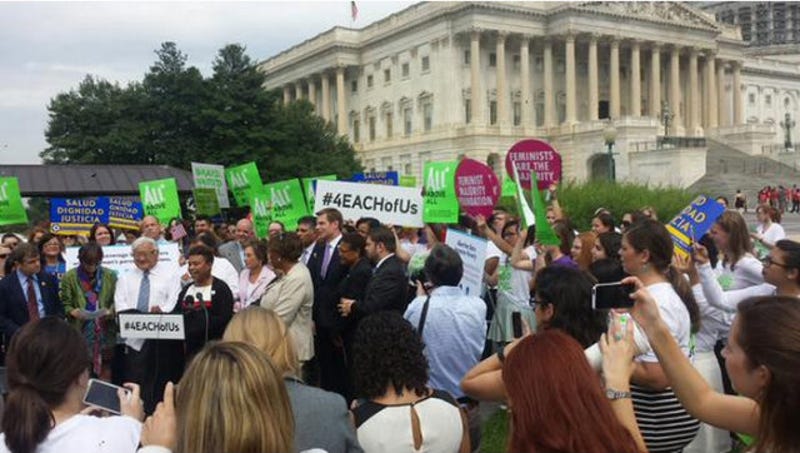 Today in exciting initiatives that have virtually no chance of survival in our endlessly disappointing political climate, there's the EACH Woman Act. The bill, introduced Wednesday by female members of Congress and backed by dozens of pro-choice and human rights organizations, would mean that every woman who receives…
The Justice for Victims of Trafficking Act should be among the least controversial bills the Senate passes: it's meant to prevent human trafficking, aid its victims, and increase prosecutions. Instead, it's turned into an enormous and enormously stupid fight about abortion. Here we are, America. Everything is…
The Hyde amendment bans federal funding of abortion. But the North Carolina Senate sees no problem with bestowing $250,000 worth of state funding to an umbrella group of faith-based anti-abortion crisis pregnancy centers that disseminate dubious medical information to vulnerable young women. Get ready for a deluge of…
One thing you'll hear lawmakers on both sides of the abortion debate say again and again is that federal money shouldn't be used to pay for abortions. There's no reason that taypayer money shouldn't fund a legal medical procedure, but thanks to the Hyde Amendment, which just turned 35, most Americans don't question…
A judge is allowing former Ohio congressman Steve Driehaus to sue the anti-choice Susan B. Anthony List for defamation, because as he sensibly pointed out, they were lying about whether abortion is "taxpayer-funded" under the Affordable Care Act.
A new medical study indicates that it's safe for a woman to have an IUD inserted immediately after an abortion or miscarriage. Researchers say it could prevent more than 70,000 unintended pregnancies annually, but there's a non-medical reason that isn't happening: The Hyde Amendment.
Perhaps you've suppressed memory of the enlightening debate over the "forcible rape" provision in HR3, the so-called "No Taxpayer Funding For Abortion" Act. Republicans may have acquiesced on that point, but the bill itself is back and expected to be voted on this week.
To avoid an awkward House floor debate on redefining rape, Republicans have quietly removed the phrase "forcible rape" from their abortion fund-restricting bill. Not before The Daily Show mocked them, though! Alas, this doesn't change the remaining bill's essential terribleness.