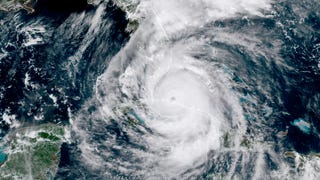 Hurricane Irma, which has been downgraded to a Category 3 storm as it closes in on Florida, is now expected to swing west, regain power and rake the state's west coast on its way north, the National Hurricane Center said on Saturday.

Hurricane Matthew is already responsible for the deaths of more than 280 people in Haiti, and now, strengthened into a Category 4 storm, it is directing itself at Florida's coast. President Obama has called a state of emergency in both Florida and South Carolina, and officials are urging everyone to evacuate without…
I was 16 years old, a senior in high school, when Katrina devastated New Orleans. Like most teens my age, my biggest concern was what I was wearing to the weekend football game, or who was going to be my prom date. Who knew that when I left my home Saturday afternoon for what I considered a pretty standard hurricane…
Earlier this week, media outlets reported on a study that found that people are less likely to take a hurricane seriously if it has female name. While to us it might seem stupid (and sexist) to forgo fretting over Hurricane Sandy because she sounds sweet and Grease is your favorite movie, Stephen Colbert — a man of…
A new study making the rounds today claims that hurricanes with female names kill more people than storms with male names because people are less inclined to believe that something with a feminine name can kill them and therefore less likely to take seriously the storm's threat. While "Proven By Science: Sexism Can …
North Carolina's New Hanover Regional Medical Center reports that there was a significant uptick in the number of babies born during Hurricane Irene. Seventeen babies were born while the hospital was on 18-hour lockdown on Friday and Saturday. "Certainly, it is noteworthy," said spokeswoman Carolyn Fisher. "The normal…
[Avon, North Carolina, September 1: Members of the Wood and Rollins families, who plan to ride out the storm in their rented beach house, stand on the balcony waving at passing cars. Image via Getty]
Hurricane Ike, a category 2 storm heading towards Galveston, threatens to grow in size and strength as it continues its march northwest through the Gulf. At the request of a few readers, we're putting up this post to wish everyone good luck and Godspeed, and to tell others: get the hell out of Dodge.
For those in southern Texas, Louisiana and Mississippi, we don't need to tell you about the Category 4 storm currently tearing its way north in the Gulf of Mexico. For those who aren't there - or don't know - a massive, massive hurricane is bearing down on the Gulf Coast of the United States, one that New Orleans…
Today is the third anniversary of Hurricane Katrina and with the memoirs and films of the wreckage left after the natural destruction and human mismanagement comes the documentary Trouble The Water. It stands out from previous films about Katrina because it includes first-person footage shot by a woman and her husband…