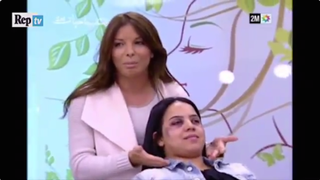 A Moroccan state television channel has ignited protest for broadcasting a makeup tutorial on how to conceal injuries from domestic abuse.
Female activists in Myanmar, also known as Burma, say they're receiving death threats from extremist Buddhist monks with the Ma Ba Tha, the nationalist group that controls much of the country. The activists are attemping to teach fellow Burmese women about sexual health, an effort that's turning them into enemies of…
Horrifying reports continue to pile up about the ways in which the Islamic State is using the rape and sexual slavery of Yazidi women as a tool of war. A new report in the New York Times makes it clear that it's also become an attractive recruiting tool, a draw for men from conservative Muslim societies where casual…
Myanmar's parliament has passed a controversial measure that will make it much harder for Buddhist women to marry non-Buddhist men. The "Buddhist Women's Special Marriage Bill" is one of several bills passed to protect "race and religion"; Human Rights Watch says they're backed by extremist Buddhist monks and meant to…
A new report says that military service members who report sexual assault face a very high risk of retaliation, including threats, harassment, and loss of promotions and work opportunities. The report says military sexual assault survivors are twelve times more likely to be retaliated against than their attackers are…
Human rights groups are calling on Indonesia to end the practice of requiring "virginity tests" for female military recruits, in which a doctor visually and manually checks for the presence of a hymen. An Indonesian military official told the Guardian the practice was necessary to weed out "naughty" women, while Human…

Musa Ibrahim, a spokesman for the Libyan government, "expressed frustration" that he keeps being asked about Iman Obeidi, the woman who burst into a Tripoli hotel Saturday shouting about being gang-raped by Qaddafi thugs. But maybe that's because he's already expended so much energy lying about what happened to her.
According to a Human Rights Watch report released yesterday, foreign maids in Lebanon have been dying at a rate of more than one a week. Since January 2007, at least 95 foreign maids have died from either suicide, falling from high buildings while trying to escape their employers, or health issues (we're guessing that…
Human Rights Watch has declared Saudi Arabia's treatment of women to be a "denial of fundamental rights." Saudi women (in case you haven't heard) are legally obligated to have a male guardian to make decisions for them, travel with them, and are banned from driving, giving them about as much personal freedom as a…