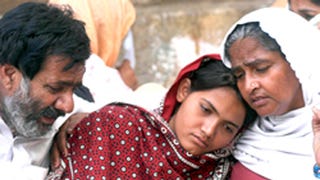 Kainat Soomro says that when she was 13, she was kidnapped and gang raped. The authorities won't prosecute the case, but that's isn't even her biggest problem. Her family was expected to commit an honor killing, but instead they tried to help her prosecute the rapists. Now they're being attacked and getting death…
"The media has drawn this image that Noor, RIP, was a saint, and my Dad was the Devil. Don't believe the reasoning behind this as 'Too Westernized.'" That's the brother of Noor Almaleki, murdered by their father, on Facebook.
On June 30, three teen girls and a 50-year-old woman were found dead in a submerged car outside of Kingston, Ontario. Now the girls' parents and brother have been arrested, and many are asking whether this was an "honor killing."
An over-the-counter paternity test will soon be available in Britain. The kit's just £30 (about $50), but it costs an extra £119 to send away to a lab in New Mexico for the results. •
Officials at a Texas high school have their panties in a twist about nude pictures of women in the background of a German textbook. They will either ban the book or put a sticker over the naughty bits. • More banning! This time across the globe in India, some Hindu groups want to ban the Mike Meyers/ Jessica Alba film …