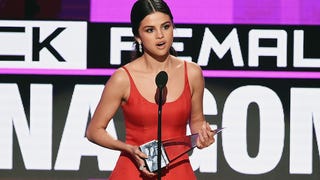 In August, Selena Gomez announced she was taking some time off to recharge, refresh and rejuvenate – 90 days to be exact. And, like a smart cookie, she apparently spent those 90 days without her cell phone. Wait, really?

Hillary Duff (Flock of Dudes, Raising Hope) and her celebrity trainer-boyfriend Jason Walsh fucked up with their Halloween costumes, dressing as a gourd-wielding pilgrim and a stereotypical Native American in a feathered headdress, respectively. They were both stoned to death on Twitter in short order:

Dogged by cheating rumors ever since ElevatorGate (and by Bey's own doing with that Resentment lyric change), Beyoncé, Jay Z and Blue Ivy put on a united front by posting a photo of them visiting Kara Walker's provocative exhibit in Williamsburg (after the jump). Bey and Blue wore matching dresses, which—aww.
Are you ready to feel old this morning? Hilary Duff, 23, who once played the Disney Channel's sweet-and-innocent Lizzie McGuire, announced yesterday that she's pregnant. The news comes at the exact one-year anniversary of her marriage to hockey player Mike Comrie. This news is best delivered by Duff, in her own bloggy…
After the Oscars, Madonna hosted a party at her manager Guy Oseary's house with Demi Moore. A source says, "Madonna danced non-stop for four hours. She and Gabourey Sidibe were dancing together at one point. They had a great time."
Gwyneth's mom Blythe Danner says Gwyn's marriage is a-ok, despite rumors of a split. "They don't take pictures together if they can avoid it. It's a strategy. They don't want the pandemonium." [Fox News]
[Beverly Hills, May 26. Image via Splash.]
Isaac Mizrahi is defecting from Target to join Tim Gunn at Liz Claiborne. [Maybe they will post a YouTube video of themselves doing lunch at the company salad bar so Jennie can use it for porn! -Moe] This is supposed to be a big "blow" to Target, but Claiborne can use all the help it can get. [NYT]

[Hollywood, September 13. Image via Splash]
The Teen Choice Awards: Ah, how we love that bastion of the little man's (or, er, of the little tween) freedom of expression. The stars pretend they care about their young fans. The young fans cry at the sight of the stars. It's an equal opportunity masturbatory red carpet heydey. The fashion however? Oy. Best…