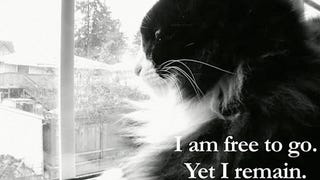 Henri, the dour-faced Internet cat suffering from ennui, has accepted an offer from Friskies to become a corporate fat-cat sellout.
Henri Le Chat Noir has long been weighed down by ennui and the holidays are only making it worse. Hang in there, mon ami. This is a rough time of year for all of us.
You would think a little internet fame might have helped lift Henri's ennui, but non. Henri is as bereft as ever and not even the vet can ease the pain of his tedious feline existence.