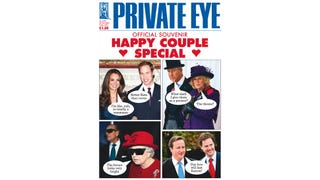 Polls suggest the British are utterly indifferent to the Royal Wedding. Whether you share their disdain, seeing this scorn expressed in a country with a centuries-old tradition of well-turned insults is its own pleasure. Here, some highlights.
As you may have heard, Michelle Obama recently wore a red Alexander McQueen evening gown to a state dinner held in honor of the Chinese president, Hu Jintao. This apparently made a lot of people very unhappy.
Kate, in Harper's Bazaar: "I'm not really a fashion designer. I just love clothes. I've never been to design school. I can't sketch. I can't cut patterns...I can shorten things. I can make a dress out of a scarf." [JustJared]
Hadley Freeman has a very smart piece in the Guardian today about a very disturbing phenomenon: female journalists publicly baring their depressing and ultimately unsuccessful battles with various forms of self-loathing.
A piece in today's Guardian gives Madonna a big attagirl for her younger boyfriend. Ok, but at this point should Madonna be a poster child for anything but...Madonna-ness?
Sofia Coppola debuts her line of "sure, why not?" accessories for Louis Vuitton in Tokyo. The luxe line is made up of "slouchy duffle bags, discreet clutches and retro wedge sandals." [WWD]
I have no words to describe the horror that is the video for the Hagyness-collaborated single "Who." Fortunately for me, Guardian fashion critic Hadley Freeman still has her wits about her as she fields a question from reader Martin Stam, who writes, "Can you please explain why the big fuss over that model Agyness…
"Quick," writes Jessa Crispin on TheSmartSet.com. "How do you tell if a woman in a movie is supposed to be intelligent? First off, she'd probably be brunette, but past that. Glasses, yes. Little to no makeup. Her hair is probably in a ponytail. Clothes she probably bought at the Gap in a size too big. You know she's…
We all know the writers strike is certainly affecting, well, the writers. And the studios. And us, since there's little to watch now, save The Sarah Connor Chronicles. But wouldn't you know? Those in the always narcissistic fashion industry is worried about how the strike impacts them. Says designer Phillip Lim on the…
What's worse? Camel toe or baggy crotch? Fashion writer Hadley Freeman (sorta) raises the question in a very strange story in today's Guardian, in which she goes as far as to insist that the catsuit, that Avengers-era bit of show-everything-yet-nothing apparel, is back. Her proof? Appearances on Kylie Minogue, Heidi…