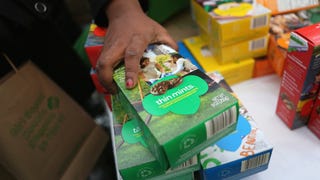 America's cultural divides go even deeper than we thought: some Americans don't even get Samoas and Tagalongs from their local Girl Scouts, but rather Caramel deLites and Peanut Butter Patties. Perhaps this explains my colleague Erin Gloria Ryan's woefully incorrect ranking of the cookies.
Yesterday we published an essay called "On Falling In and Out of Love With My Dad," which Natasha Rose Chenier sent to us shortly after the publication of NYMag's interview with a young woman who planned on marrying her father. I spoke with Natasha more about her story.
The Girl Scouts are coming and this year, they are going to fuck up everything about your life with three new cookie flavors—two of which are gluten-free. Paging Phyllis Neffler, how many boxes will you be selling this year? More importantly, how many boxes can I eat without incurring diabetes? Because, let me be real…
In the old days, childless adults who wanted to get their Thin Mint on would have to seek out Girl Scout Cookies the ancient way: by approaching strange children on the street and asking them if they had any cookies, or by hanging out near elementary schools after the closing bell rang in hopes that one of the little…
Pro-lifers are mad that maybe, possibly, someone at the Girl Scouts of the USA could've conceivably obliquely hinted that Wendy Davis isn't literally Satan. Consequently, a Texas pro-life group is attempting to rally the pitchforks for a boycott of Girl Scout cookies. Attempting to punish a bunch of 10-year-olds over…
Following a concert in 2000, 16 year-old Bill Magee had the briefest of meetings with Fiona Apple at which he was able to pass her note requesting that she write a few sentences of support for his school's Gay Straight Alliance. A half a week later, he received the sweetest letter from Apple:

Josh Siegel's animal art is now a regular weekly feature. Add your own requests in the comments, and maybe Josh will draw an animal for you.