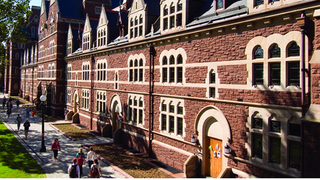 Here's how Trinity College's president and a Board of Trustees chairman explain the decision to turn all of the college's fraternities and sororities co-ed:
Swarthmore College, a small private liberal arts school near Philadelphia, banned sororities from its campus almost 80 years ago after their Kappa Alpha Theta chapter allegedly refused to let a woman in because she was Jewish —and because their general exclusivity doesn't mesh so well with the college's Quaker roots.
It really shouldn't be that hard to determine whether you're celebrating a culture or making fun of it in an incredibly insensitive way. Yet, frat bros and sorority sisters love holding parties with names like "Compton Cookout" and "Conquistabros and Navajos". (It's shocking that the smarties at Harvard, where the…
Sometimes a girl has to pick between two different, totally-not-bad-at-all things, and she has to make that decision at a point in her life when every tribulation leading up to that moment has basically been prom hair and pillow fights and shopping mall foot fatigue and Psych 101, but because her life hasn't been…
Five years ago, the story of a group of gay men claiming to be men who were enthusiastic about historically black sorority Alpha Kappa Alpha set some corners of the internet aflame. According to circulated reports, a group of men (super, super, super gay ones!) were prancing around Texas Southern Southern University…
It isn't uncommon for fraternities to get into trouble for hazing or alcohol policy violations, but a University of Vermont fraternity is in hot water simply for circulating a survey to its members. The brothers just wanted to get to know each other a little better by asking for some basic info from one another, like…
In an unusual move, Yale University publicly announced that it's finally disciplined Delta Kappa Epsilon, the frat that chanted, "No means yes! Yes means anal!" on campus in October. This wouldn't have something to do with that Title IX gender discrimination suit, would it?
Does it matter if the distributor of a charming guide to the "targeting" of women, with or without their consent, was actually a registered member of a fraternity? And whether or not the document was an original? Some think it does.
For the first time, a trans woman will rush the Zeta Chi sorority at Trinity University in Texas. Hopefully her experience will be more positive than that of other trans people in the Greek system.
Duke frat boys would like the world to know that they still have the stranglehold on the douche factor, thank you very much.
The members of UCLA's Gamma Rho Lambda acknowledge that the terms "LGBT" and "sorority" don't necessarily go together for a lot of people. But they hope to change that.