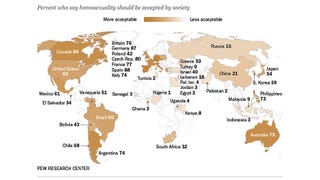 The Pew Research Center just released the results of a new survey detailing the acceptance of homosexuality around the globe. The numbers you see above represent the percent of people who believe in acceptance — as polled in 39 countries among 37,653 respondents from March 2 to May 1, 2013.
A 19-year-old Tunisian girl was committed to a mental hospital by her parents after posting topless photos of herself in on a website for the Ukraine-based topless radical protest group FEMEN. Amina (last name unknown), had been corresponding online with FEMEN leader Inna Shevchenko since the end of February, mostly…
Meet Isabel Dos Santos. She is 40 years old. Forbes has just named her Africa's first female billionaire. Yes. Billion. Picture a million-dollar home. Now picture one thousand of them. A billion.
Madonna may adopt another child from Malawi, saying: "Many people — especially our Malawian friends — say that David should have a Malawian brother or sister."