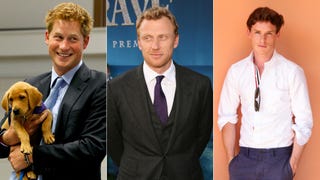 A post on Slate today claims that women with red hair are sexualized and men with red hair are reviled. We're here to say LONG LIVE RED-HEADED MEN.
The competitive element of Prince Harry's trek to the South Pole is cancelled, with organizers citing "a higher degree of stress" than expected as the reason. All parties will continue the journey together, travelling and making camp together. They'll likely finish the journey within a week.
London's Manbar is popping off with regulars and tourists alike — all looking to catch a glimpse of a shirtless Prince Harry. Un/fortunately, it's not the flesh-and-blood ginger nobleman, but instead a portrait in giant mural form. It's really great and everyone loves it. Well, except probably not the Queen, but who…
M.I.A. has always mixed pop with politics. And her new video, for a track called "Born Free," is a nine-minute, disturbingly graphic film that raises more questions than it answers.
Snack cake queen Little Debbie turns 50 this year and to celebrate her birthday, McKee Foods is searching for a lookalike. The winner of the contest will get a $5,000 scholarship and 50 cases of the plastic-wrapped cakes. [PopCandy]