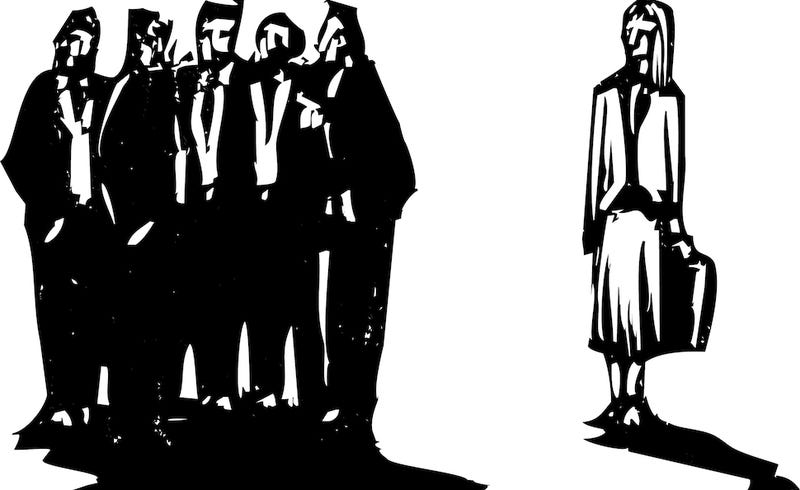 Observer freelancer Jacques Hyzagi's "Elle on Earth" piece was a quite fascinating, entertaining piece as a standalone—a drunken bar brawl of a curio. As a curtains-up, jabby and somewhat fantastical piece of media criticism, it invited criticism of its own across the fashion and media internet, including here at…
Good news out of the world of men! Similarly to how the Johns, Roberts, Williams and Jameses of the world DOMINATE our nation's board rooms, men named "John" currently account for more of our country's CEOs than all the female CEOs put together. Way to go, guys!
A woman will often be called pushy for the same thing a man would be called persuasive for. Or she'll get called a bitch when he gets called a boss. We know this, but it's very rare that we see the double standard so plainly called out in a nationally syndicated commercial. Of course, now that that very commercial is…
OH MY GOD, SWEDEN. Staaaaaaahhp!!! Fresh on the heels of codifying their new gender-neutral pronoun, those plucky Swedes are getting even more proactive in their attempts to turn mommies into people. Unafraid to incorporate feminist thought (i.e. basic fucking equality) into official policy—can you imagine!?—some…
Founded in 2004, the Geena Davis Institute on Gender in Media is a research-based organization dedicated to analyzing and changing female portrayals and gender stereotypes in children's media and entertainment. Tuesday, Google launched the Global Impact Awards, and announced that the Geena Davis Institute would…
A new report has found that in spite of cultural advancement, American lawmakers are still overwhelmingly old, overwhelmingly white, and overwhelmingly male. A whopping 85% of Senators and about 83% of House members are dudes, and their average age hovers around 60. It's no wonder Congress legislates like a bitter old…
One woman's on a quest to address the "gender inequalities" that plague our nation's dry cleaners.
NPR's Peter Sagal took his wife and three "excited and happy" daughters to see Horton Hears A Who and left super pissed. The number one-grossing film of the year so far caused Sagal to be "irritated by something even more annoying than Jim Carrey's tics." See, the filmmakers added a subplot to the Dr. Seuss story. Now…