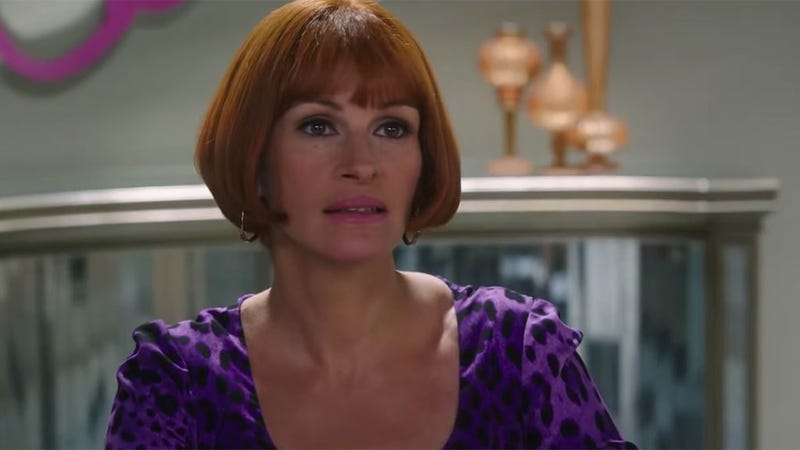 Mother's Day, the unfathomably bad new ensemble comedy by Garry Marshall, ends with a blooper reel. It's not a particularly good blooper reel, but there is one great moment—perhaps the only good moment of the entire film. In it, Julia Roberts is seen in character (complete with that hideous wig) staring out the window…
Julia Roberts wears a wig in Mother's Day, the latest in a string of avant-garde films from famed director Garry Marshall. But the unholy bob atop her head is not a new wig plucked from a discount hair emporium shortly before filming. It is an old wig. In fact, it is a wig Roberts herself has worn before.
Oh, look. Another Garry Marshall ensemble comedy about a holiday that typically (and understandably) doesn't have movies made about it in which actors of varying degrees of fame are thrown into a Vitamix along with a screenplay written by a robot, pureed until reaching the consistency of chunky vomit, and lit like a…
Groundbreaking sitcom Mork and Mindy was always doomed to fail. This weird comedy about an alien and his human pal reached a U.S. audience of 60 million viewers every week, and launched Robin Williams' career. And then, it tanked. We talked to the show's writers and director, who told us the fascinating story of the…
Honestly, Love, Actually was not a bad movie. Unfortunately, its success taught Hollywood a terrible lesson: Cram a crapload of stars into one flick, and the masses will pay to see it. Off course, by "masses," we mean women, because we're the ones these projects are aggressively marketed towards. After He's Just Not…
The horrifying rumor is that Jennifer Lopez will star in an Overboard remake. She's no Goldie Hawn, though, as my sister says, Matthew McConaughey is inevitable for the Kurt Russell role. Let's look back at the flawed but addictive original.