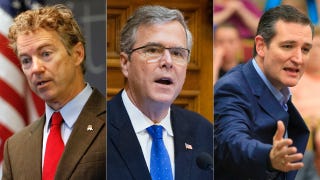 Now that Rand Paul has announced his Presidential candidacy, joining firstie candidate-in-name-only Ted Cruz and the inevitable-but-formally-unannounced Jeb Bush (sorry: "Heb Boosh"), it is officially the season of Republican conjecture. And, for a woman who would only vote Republican at gunpoint, there is only one…
The new weird CGI-fest version of the TMNT movie comes out this weekend, making it the perfect time to reflect on ye TMNT of olde. And the most important question of all: Which reptile is the most fuckable? Written last year, but still incredibly apropos, we revisit: Fuck, Marry Kill: Teenage Mutant Ninja Turtles…
"We're the hottest guys working in film and we're all in the film together," actor Miles Teller said on the Today show Tuesday while promoting his upcoming bromance rom-com That Awkward Moment. Teller was trying to explain why people should see the movie, in which he stars with fellow hot young men Zac Efron and…
Between Twilight and The Hobbit and My Crazy Obsession with Being a Sexual Merman, I think it's safe to say that the supernatural has never been hotter. But while it's easy to be like, "Sure, I'd pound some vampire dong," or, "Oh, yeah, I'd intercourse a werewolf 2NITE," some of the 2nd-tier mythical hunks are more…
If you have ever taken a moment to pause and contemplate the fact that we've been in the 2000s for thirteen entire years, it's likely that you've asked yourself where the hell the robots are. Shouldn't we have them by now? And, more pressingly, if your future robot butler does manage to claw its way out of the…
Friends, we live in a dark, uncertain world. War, famine, prejudice, disease—sometimes the swirling tide of confusion is so strong that we fear we may be washed away entirely. And that's why Jezebel is passionately committed to chipping away at life's toughest and most overwhelming questions. Why are we here? Who, in…
In the days before the internet, plucky frontierspeople had a folk wisdom way of telling when a big storm was a-coming — animals behaved strangely, the wind would pick up a spooky chill, and The Weather Channel's Jim Cantore would appear, striding, like a hairless, sentient, be-slickered penis into your town. And…
Many a pearl has been clutched over the gratuitous amount of female nudity on Game of Thrones and, yes, lots of naked ladies have been shown in compromising situations throughout the Seven Kingdoms — so many, in fact, that we often seem to forget that the show is also populated with some extremely handsome dudes.
Once in a generation can we hope to witness the degree of terrible we're currently witnessing during the trial of John Edwards, former Presidential candidate, former Senator, eternal jackass. But Edwards, who fathered a child with a woman who was not his cancer-stricken wife and then allegedly paid her (his mistress,…
Fuck, Marry, Kill — the thought experiment that's a staple of school buses from coast to coast — can be a game of joyful possibility. But, with a few tweaks, the game can quickly turn from a fun romp through a mental photo album of shirtless Idris Elbas and Liam Hemsworths into a nightmarish trip through a land of…
As the 2012 political season heats up, it's important that we don't lose sight of what's really important in the election cycle: the fuckability levels of candidates' sons. Since Mitt Romney's got the sons with the squarest jawlines, let's start Decision 2012 with an epic Romney on Romney edition of Fuck, Marry, Kill.