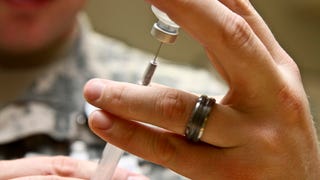 Dear Lifehacker,
It seems like everyone I know is sick, and I can't afford the time off work if I come down with something. I'm trying to eat and sleep well and wash my hands often, but now I'm regretting that I didn't get a flu shot this year. Is it too late?
I never get flu shots — not because I'm lazy or have a blatant disregard for my health and the health of those around me, more because I just...don't. Preventative, blah blah. But maybe I'll reconsider: Tamiflu, the flu treatment included in a list of "essential medicines" by the World Health Organization and stocked…
If you've been feeling like this flu season will never end, you're not alone. According to monthly reports, 3.3 percent of Americans reported having the flu during February (typically the peak of flu season), as opposed to the 2.2% of Americans who reported the same illness in February of last year.
A study says one in two dudes exaggerate and are likely to call a cold a "flu" and a headache a "migraine." Try having cramps, jerks! [Daily Mail]
[Silver Spring, October 14. Image via Getty]
Cold and flu season is coming, and to be honest, I am dreading it. Last winter, I got strep throat for the first time in my life, and I wanted to die. The fever and sensitivity to light were awful. And while I've had bad tonsils ever since I was a kid, I've never not been able to swallow anything for so many days in a…
Everything your college roommate told you is true. Well, at least about the magic healing powers of the cranberry. Cranberry juice, long guzzled by paranoid sexually active women everywhere in an attempt to save themselves from the agonizing pain of a urinary tract infection, has been confirmed as having legit…