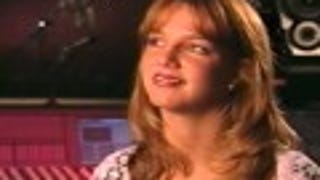 Here's a reminder that we're all getting so old, all of the time. If this doesn't send you straight back to the late 90s/early aughts, maybe that's because you weren't born yet. For the rest of us, please enjoy Bit Bit saying fun things like "everyone has been doing e-mails!" and "Oh my goodness!" Ugh, she's the…
In a recently released Titanic featurette, director James Cameron talks up the skill of the then-19-year-old Kate Winslet and reveals the young actress' original screen test. While it's fun to see a pre-Titanic Kate, the scene itself is stolen by someone else entirely — Jeremy Sisto (A.K.A. Elton from Clueless and…
We really do love old prom pictures, celebrity or otherwise. So this slideshow was like catnip. Some people — Faith Hill and Angela Bassett, anyone? — are eerily unchanged. Others are virtually unrecognizable. Below, a few of our favorites.
[This image just begs to be forwarded to a friend. As my pal wrote, "He looks so happy!" Thanks to the folks at ONTD for posting it, and making this Monday magnificent.]
Today's Oprah was '60s-themed, which included an interview with Mad Men's January Jones and Jon Hamm. Gayle (who got Oprah into the show) was given the opportunity to dress the part and enter the Mad Men universe.
A collection of ridiculous boyband photos recently swept the internet, bringing great joy to everyone who gets a kick out of seeing men dressed in shiny pants and patterned vests. But let's face it, girl groups were just as bad.
Though the ad does feature two girls and a multi-ethnic cast, we question how progressive it really was, since the African-American girl's face is only shown for a split second. Why does the Peter Brady look-alike get all the screen time? Thanks to the reader who sent this tip. [Seriously? OMG!]