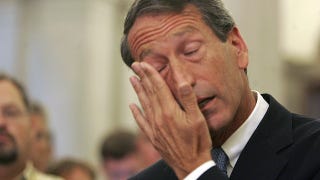 From the Appalachian Trail to the... Crappalachian Trail. Disgraced former South Carolina governor and notorious family values-touting philanderer Mark Sanford will soon be reappearing in the public eye again after resigning from office in 2009. This time around, he'll be joining Fox News, cable TV's shoutiest network.
The Politico: "Ingraham announced that the speaker did everything but 'sell her own body' to win the 220-to-215 vote." The madness continues on Ingraham's website where she asks if Nancy Pelosi and Stephen Tyler were seperated at birth. Classy. [Politico]
So the rumors are swirling that Zac Efron and Vanessa Hudgens are getting married. I called the local hardware store: there have been no reports of 13-year-old girls tearfully buying pitchforks. Therefore, I'm pretty sure this rumor is false.
Daily Show hottie Jason Jones headed to Alaska this past weekend to "commune" with Sarah Palin's supporters at her resignation speech and castigate Big Media for running her off.