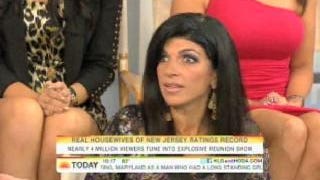 Season three of RHONJ reportedly begins filming tomorrow. This morning on Today, the ladies—sans Danielle—discussed who's returning, and who might be added to the cast. Plus, we've got juicy preview clips from part two of the reunion.
On last night's episode, several cast members took Danielle to task—to her face and behind her back—for not objecting when her friend/bodyguard called Caroline's son a "faggot." Instead, Danielle (a self-proclaimed "gay advocate") laughed. Ha ha!
We enjoyed Ann Coulter's defence to calling John Edwards a 'faggot', and we thought we'd back her up by proving that 'faggot' is indeed just a fun little word that's as shinny and happy as 'bluebells' or 'communist scum'.