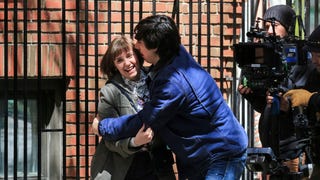 There's been much speculation about how Season 4 of the hit HBO series Girls will shake out now that Hannah has been accepted into the Iowa Writers' Workshop. But new rumors about Hannah's fate have been confirmed through a much-beloved sleuthing technique called "reading over the shoulder of a casting director with…
Tired? Stressed? Unprepared for the work week? Dreading another bout of polar temperatures? Let Lil BUB lighten your burden. After the runaway success of her hour-long YouTube Yule Log, she's back with a followup: two minutes of "one-on-one facetime."
When we think of plastic surgery, we tend to think first of nose jobs, but it turns out the biggest new trend in modifying one's face is getting chin implants. The American Society of Plastic Surgeons just released new statistics that show that chimplants, as they're charmingly known, are the fastest growing procedure…
File this under Unexpected Good News: Christian publisher Zondervan has suddenly pulled all information about a forthcoming children's book on Sarah Palin from their website. A publicist would only say that the project has been postponed — indefinitely.
Apparently, ladies really dig this guy's upper lip. And if they don't, he can always grow a mustache over it — although this picture will likely remain on the Internet as a testament to his brilliant face ideas. [WOW Report]