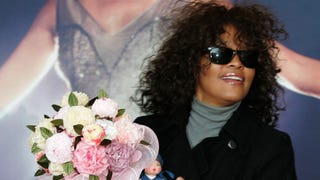 Last night, during the first concert of her Australian tour, Whitney Houston was breathless, barely finished any of her songs, and left the stage at one point, telling her brother to take over the microphone.
In a lengthy interview with The Sun, Lindsay Lohan discusses her drug abuse history, saying her father talking to the press made her hit "rock bottom" and, "I tried to mask my problems with alcohol, cocaine and mind-altering substances."
Blake Fielder-Civil says he and ex-wife of seven months Amy Winehouse are planning to remarry. "Amy's wearing the Tiffany ring I bought for her three years ago, again. We've been meeting up and talking about the old times," he says.
Swiss officials announced today that Roman Polanski won't be extradited to the United States until L.A. courts make a "decision on the question of an in absentia trial." For now, he'll remain under house arrest at his Swiss chalet.
On today's Oprah, Mike Tyson discussed Tyson, the documentary chronicling the champion boxer's life. Tyson opened up about the recent death of his 4-year-old daughter, his tumultuous marriage to Robin Givens, his rape conviction, and biting off Evander Holyfield's ear.