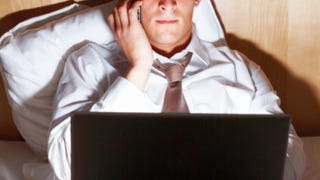 Before I go to most restaurants, like any other responsible and tech-savvy smart phone owner, I always check their Yelp page. I've successfully avoided severe diarrhea multiple times thanks to loyal Yelpers who have yelped warnings with multiple exclamation points about that grilled cheese place down the block and how…
Forty-four year old Anna Gristina — also known as Anna Scotland — "looks like a normal mom," according to a local resident on New York's Upper East Side. But the petite, green-eyed blonde was allegedly running a brothel in the neighborhood for 15 years, and claimed to have made millions. Gristina, who actually lives…
A strange new Utah law would make it a crime not just to explicitly offer sex for money, but also to "indicate, through lewd acts," that you're willing to do so. In addition to scaring ladies into hiking down their skirts, the legislation could allow cops to target legal businesses, like strip clubs.
According to a new report on sex work in New York City, pimps are becoming passé. So is Craigslist — but Facebook is (allegedly) on track to becoming 2011's biggest sex-work hub.
Sure, authors Steven Levitt and Stephen Dubner acknowledge, streetwalking is tough work. But being a high-end escort is big fun, just like being a trophy wife without the marriage. So why don't more women do it?
Apropos of HBO's Hung, The Daily Beast's Tracy Quan spoke with several male prostitutes about their experiences. Among the revelations: a male hooker can make money having sex with women, but he may have to resort to some unpleasant gimmicks.
Today, Tyra featured an issue that I've thought a lot about and haven't heard many mainstream people discuss: How different women in different aspects of the sex industry view one another. It's always seemed odd that women in such a controversial line of work would even bother to be judgmental of what the next person…
• Bjork feels sorry for China. You know, over all that Tibet stuff. • Italian porn star runs for office, promises to create "cute" red light district. • H.S. teacher resigns after being outed as madam. • Macho, alcoholic men have trouble dealing with serious injuries. • Gabrielle Union sues Craigslist pranksters over…
Yesterday we looked at the Spitzer scandal from the prostitutes' point of view, and now we ask the question: why did Eliot risk everything to bone a hooker in the first place? One possibility, according to the Times of London, is that he's addicted to sex. An anonymous columnist writes in today's paper, "My desire for…