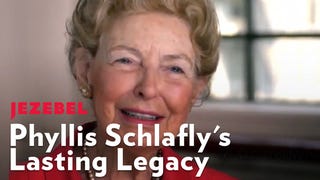 "The church needs women like you," my youth minister told me as he pressed a pair of tickets into my sweaty, seventh-grade palms. The tickets were for a speech that Phyllis Schlafly was going to give later that week at Coral Ridge Presbyterian, the church I had attended since, well, birth. Coral Ridge was mega-church…
Famed non-feminist Phyllis Schlafly died Monday at the age of 92. Eunie Smith, the first Vice President of the "pro-family" conservative organization Schlafly founded, the Eagle Forum, said her death came at the end of "a long illness," with Schlafly's daughter confirming that said illness was cancer.

Lands' End has issued a statement apologizing for featuring an interview with Gloria Steinem in its spring catalog, and appears to have pulled the option on their website to donate to the ERA Coalition's Fund for Women's Equality. They are so sorry they dared to say something nice about this influential feminist.…
As you may know, the Life magazine photo archive is now online, and we've been showcasing images of women in different decades; the 1930s, the 1940s, the 1950s, the 1960s. Now, the 1970s.
What did you do for International Women's Day on Saturday? According to Carolyn Byerly of WIMN's Voices, you probably did nothing, since IWD was so roundly ignored by the media this year. "My own hometown newspaper Washington Post had not a single op-ed piece today, nor national or local news," laments Byerly. "IWD…