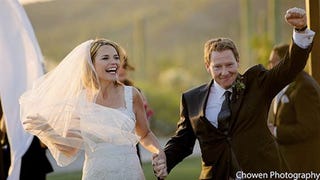 After announcing her engagement in May, host Savannah Guthrie took to the Today show Monday to reveal she'd gotten secretly married over the weekend and is four months pregnant. Whoa!
Bachelor Number 1 is twenty-six years old, hails from the Netherlands and enjoys extorting the mother of one women he very likely murdered in exchange for the whereabouts of her body. He also murdered a Peruvian college student after she uncovered details about the first crime on his computer and defended himself by…
We already informed you of the upcoming Pitt/Jolie vs. Theroux/Aniston matrimonial potato-sack race late last night, but figured it was news worth repeating.
After serious journalistic reports came in that Sofia Vergara was wearing a "sparkly ring," we sat up all night, vigilant, waiting to see if she had indeed been proposed to on her Mexican vacation with boyfriend Nick Loeb. (Remember that scene in Secretary when she's sitting at the desk in her wedding gown for days…
"This celebrity couple is close to a final agreement over how everything – including the child/ren – is going to be divided in the divorce. However, the wife's legal team is having her keep one chip in her pocket for the divorce trial. If the husband's team tries any last-minute maneuvering, the wife is not afraid to…
Remember that cool trick you could do with silly putty by pressing the sticky substance onto newspaper and making your own print? Well, TheCheeky's $550 titanium wedding ring is kind of like that, except terrifying: the band has the words "I'M MARRIED" engraved on the inside, ostensibly so wannabe cheaters will never…
Shrill, polarizing funnyman Zach Galifianakis just got engaged to his longtime girlfriend Quinn Lundberg and the couple's already planning the nuptials for August 11th. Lundberg is the co-founder of Growing Voices, a non-profit organization that connects international donors to community-based projects.
In the battle for worst new wedding-oriented TV show, Bridalplasty has some competition: Jilted? from We TV.
It's fairly obvious that the Tiffany & Co. Engagement Ring Finder was invented for women. After all, the goal of all unmarried ladies is to have a hunk of diamond on that special finger — and quick! But it's strange:
This is so sad. David Beckham gave his sweat-soaked jersey to two young boys after a Los Angeles Galaxy game at Hawaii's Aloha stadium. Now, the boys' parents are duking it out in court to see who gets possession of the jersey. "My son got the shirt, their kid started trying to pry it away," said Wilfred Ho, who is…
Mere days after we questioned the identity of Winona Ryder's man, she appears to be engaged! The lucky dude is Blake Sennett, from the band Rilo Kiley. Ryder, neé Horowitz, was previously engaged to Johnny Depp. Mazel tov! Update: Ryder's rep tells Us Weekly that she is not engaged. [TMZ, US Weekly]
[Long Island, New York; February 25. Image via Splash.]