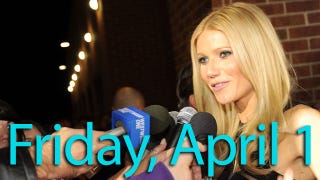 Gwynnie says she's recently discovered that her great-great-great-grandfather was a "miracle worker" and "Kabbalah master," who also saved his shtetl from a fire. Then he guest-starred on Glee and released a cookbook. [Contact Music]
The Genesis Awards, a Humane Society-sponsored event which celebrates those in media and entertainment who draw attention to issues surrounding animal rights, took place last night in Los Angeles, and the stars came out to show their support:
Jennifer Aniston is concerned that her romance with Gerard Butler will come to an end, now that the movie the two were shooting together, The Bounty, has stopped filming. Surely this means more "Lonely Jen" stories for us all. [PageSix]
The L.A. County Coroner has ruled that Michael Jackson's death was a homicide caused by a mixture of the anesthetic propofol and the anti-anxiety drug lorazepam, but MJ had many other drugs running through his system when he died.
Filling Lily Donaldson's shoes, Emma Watson, 19, will be the face of Burberry. Said designer Christopher Bailey: "Her charm and intellect and brilliant sense of fun made the whole shoot feel like a picnic on the Thames." [Telegraph]
The Critics Choice Awards were last night, and where there's an awards show, there's our take on who wore the good, the bad, & the ugly. Frankly, we think that anyone who would show and fail to support the striking writers is pretty ugly in our book. But of the dark-hearted folks who did show — well, it was all a…
The Teen Choice Awards: Ah, how we love that bastion of the little man's (or, er, of the little tween) freedom of expression. The stars pretend they care about their young fans. The young fans cry at the sight of the stars. It's an equal opportunity masturbatory red carpet heydey. The fashion however? Oy. Best…