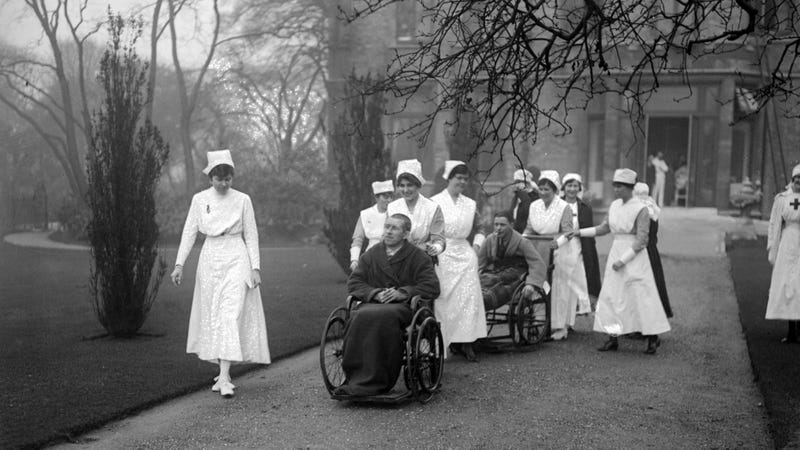 Someone has found a previously unknown, never-published Edith Wharton short story about French society on the home front and female volunteer workers during World War I, knocking around Yale's rare books and manuscripts library. Hey, while you're back there, check for the Holy Grail and a recipe for turning lead into…
In this month's issue, Vogue has an entire fashion spread dedicated to Edith Wharton. Wharton, the first woman to win a Pulitzer for fiction, was born 150 years ago this year. Apparently this Annie Leibovitz shoot at her historic Massachusetts home is Vogue's idea of an appropriate commemoration? Wharton is played by…
Lapham's Quarterly has published an excerpt of erotica by Edith Wharton — and it's surprisingly racy. Check out the Wharton you didn't read in English class.
Leighton Meester made the September cover of Harper's Bazaar, and inside the magazine printed digitally-altered photos of the actress, intended to show how she will age. At 23, Meester is already a supporter of Botox. [WWD]
Remember when Constance Billard puts on The Age of Innocence for its senior play? Is it mere coincidence that Edith Wharton's teenage correspondence should just have come to light after decades of secrecy? Okay, probably.
Trustees of the Mount, Edith Wharton's Massachusetts estate, have restructured the site's finances to reduce its multimillion-dollar debt. Measures include adding Mount-hosted festivals, writing workshops, and lecture series. Marrying well's not an option? [AP]
On Friday we posted a call to help us complete a list of 75 books every woman should read. We started you off with 20 culled from our editors' suggestions, and you guys took the ball and ran with it. A few notes on the compendium of 75 that you helped us compile below. As we said in the original post, most of the…
Was the death of Lily Bart, the heroine of Edith Wharton's The House of Mirth a suicide or an accidental overdose? Literary pundits have been arguing the question since the novel debuted in 1905, but a letter written by Wharton and recently unearthed points to the suicide theory. "A month before Mirth installments…