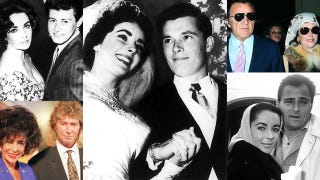 Elizabeth Taylor was the first tabloid star, with fans and haters alike all interested in her love life perhaps more than her films. With eight marriages to seven different men, her relationships provided a lot of fodder for gossips. She supposedly married so many times due to her personal motto on romance being,…
'50s teen idol Eddie Fisher died on Wednesday at 82 due to complications from hip surgery. Fisher had four children, including Carrie Fisher, and was known for his many pop hits and scandalous divorces from Debbie Reynolds and Elizabeth Taylor.
Uh-oh. This could be controversial, if you have read the books: Angelina Jolie will play Kay Scarpetta of the bestselling Particia Cornwell mystery novels.
"I'm a pretty outspoken princess, right?" recalled Carrie Fisher at her The New York Times' panel yesterday. "But you take off my clothes, you slam a metal bikini on me, and suddenly I don't know what to say. I'm mute."