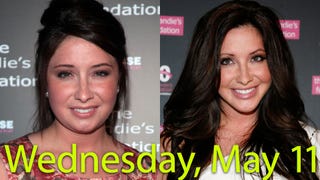 You guys: Bristol Palin did not have plastic surgery. Nope. Not at all. What she had was "corrective" jaw surgery. If you think she looks better now, it's just a coincidence! "Yes, it improved the way I look, but this surgery was necessary for medical reasons," Bristol tells Us magazine. She explains that she had the…
Prince William MIGHT ask Kate Middleton to marry him tomorrow, since June 3 and June 4 are "mysteriously blocked out" in the Buckingham Palace calendar.
It would be fairly epic if Madonna became a judge on American Idol.
Victoria Beckham has been approached by Fox to host her own fashion reality TV show. Posh would travel around America — some small, "backwater" towns — finding style-challenged people, and giving them fashion make-overs. Geek to chic! [Marie Claire]

Princess Eugenie, daughter of Fergie, the Duchess of York, is the latest victim of the PhotoShop of Horrors. Although she is not chunky at all, the 17-year-old appears on the cover of Tatler magazine looking whittled down, to say the least. Click the picture for a larger view. [Mirror]
A source says Jake Gyllenhaal is not OK following the death of his good friend Heath Ledger. He's "taking it harder than most people" and it's "obviously a major trauma." So sad. [People]

Britney Spears and Kevin Federline both went to their first Parenting Without Conflict session yesterday. They learned "polite requests," cooperative parenting and communication skills. Sounds like fun — and a step in the right direction! They're both due in court Friday for a "progress review." [People]