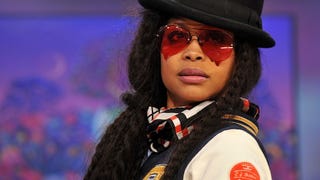 Would you like Erykah Badu to be present at your birth? It could happen — she's already a doula, and now has said she wants to be a midwife.
"Why aren't there doulas for abortions?" The Utne Reader points the way to Bust magazine's write up of an emerging movement. In order to support women "across the spectrum of pregnancy," the Doula Project has started to rethink its role.
• Cameras and recording devices have been banned from all of Sarah Palin's book tour appearances, but a spokesman announced people can pose with her and buy a copy later online for $15 and up. •
"When was the last time you had an orgasm with an eight-pound, twenty-inch penis," a pissy commenter wonders at the bottom of a brief story in the New York Times about the documentary Orgasmic Birth.
Mia Farrow is offering to give up her own freedom for that of a Sudanese rebel under hospital arrest. Is she for real or is this just some empty offer to prove once that she's a better person than Angelina? Either way, she is equal parts insane and awesome. [Telegraph]