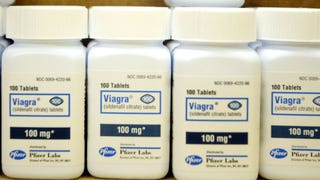 There's a joke that says if men needed birth control, the prescription would not only be free, it would come delicious flavors like cool ranch Doritos or artisanal salted caramel. The same goes for the Food and Drug Administration's focus on female sexual dysfunction: there is little research on vaginas but plenty of…
It's January, which means that you get to spend the next few weeks huddled over a space heater waiting for Super Bowl Sunday to descend on you like an unholy, Pepsi-sponsored carrion bird. Super Bowl commercials have achieved their own level of notoriety in the American media landscape, and the economic health of…
Raise a chip for Arch West, the Frito-Lay executive credited with inventing Doritos in the '60s. West died last week at 97 and his family plans to dust his grave with a layer of Doritos before burying his urn. It seems like a fitting tribute, but hopefully the folks behind Cheez Whiz won't get any ideas.
In the wake of this year's mostly craptastic round of Super Bowl ads, companies would like you to know that 1) They are smarter and more ironic than you and/or 2) Their external ethnic advisory board told them they're not racist. Oh, never mind then.

According to today's New York Times, selling chips to chicks is tricky business, which is why Frito-Lay has "researched women's feelings about snacking and guilt." Uh-oh.
I'm on Weight Watchers right now, but when I went to the bodega today to get cigarettes and saw that there was a new Doritos flavor I haven't yet tried, I decided to throw caution to the wind and use up 14 of my 21 points on a 99¢ bag. It's part of their "Collisions" series, which means there are two flavors in one…
It's time for another installment of Pot Psychology, the "advice" column in which we attempt to solve everyone's problems with an herbal remedy. (Remember, kids: Don't do drugs!) In this episode, Rich, the Piper to my Trig, helps me answer questions about ejaculate, 16-year-old boys, and air-humping. Got a burning…

While we enjoy the PR spectacle of Heidi and Spencer in everyday life, the Bolthouse drama and the "You're choosing work over me" storyline they have going on The Hills is so fake and annoying. Letting them be their normal cheesy selves would be so much more entertaining. Thankfully Lauren's friend Lo keeps it real —…

We were psyched to see this new Doritos commercial because first of all, it's for Doritos Collisions (two flavors in one bag!). Secondly, the company's new spokesperson is Missy Elliott, who makes a far better (and more believable) Doritos Girl than Ali Landry. (Remember that flash in the pan?) Anyway, Doritos +…
The View is back! The View is back! I couldn't be more excited. Pass me the Astroglide, because I think I just grew a dick and I wanna stick it in a man's anus—that's how wonderfully gay the lineup was all week on our favorite morning gab fest. Joan Rivers! Jackie Collins! Mary Tyler Moore! Mario Cantone! Plus, Oprah…