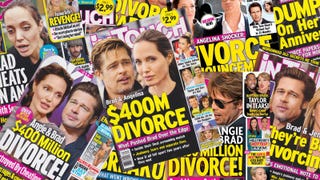 In my roughly 18 months covering celebrity gossip for Jezebel, I have seen so many tabloid covers screaming about the rumored divorce of Angelina Jolie and Brad Pitt that news of their actual divorce hit me not like a ton of bricks, but like a gentle dusting of old, scraped off grout from in between a ton of bricks.
Whenever a popular entertainer experiences devastating or scandalous news in their lives, the media is obligated to find ways to tie their material into the personal matter at hand, especially when it comes to singers. Such was the case with Mary J. Blige and her divorce "drama."
Though many of you are still traumatized by the news of Amber Heard and Johnny Depp's divorce, I simply must make your morning even worse by sharing a new rumor about it. TMZ is reporting that Heard filed for divorce from her husband of 15 months because Depp's family couldn't fucking stand her, and she was sick and…
Kaley Cuoco, the Big Bang Theory star whose success I find baffling and hilarious and wonderful in equal measure, filed for divorce from her first husband, sort-of tennis player Ryan Sweeting, in 2015. Their marriage lasted just under two years and—if the tabloids are to be believed—may have ended due to Sweeting's…
When Yolanda and David Foster announced their separation on December 1, it was immediately clear that we would be seeing the unraveling of their marriage on the next season of the Real Housewives of Beverly Hills, which premiered that same day.
What right do we have to discuss the divorces of people we barely know? None, arguably, but nonetheless, in the world of celebrity divorce blogging, there's the good (a divorce that's seemingly harmless but becomes fodder for enough gossip that it leads to headlines for months) and the bad (a divorce that's just sad,…
Country music power couple Blake Shelton and Miranda Lambert's divorce is expected to be finalized on Monday, according to TMZ. Shelton reportedly filed in Oklahoma.
America's most profitable newlyweds, sex-tape-maker-cum-reality-star Kim Kardashian and her blushing groom, New Jersey Nets giant Kris Humphries, are reportedly done. Finished. Over. Dunzo. Love is dead; god may be as well. According to TMZ, Kim is filing for divorce, citing "irreconcilable differences," and the…
Miley Cyrus is on the cover of Billboard Magazine talking about the Vanity Fair hubbub. Best quote: "I stress about that stuff like everyone else, but at the end of day, I'm a good ol' Southern girl that likes her Cracker Barrel at 9 o'clock at night and if I want it, gosh darn, I'm going to eat it." • More details on…
Tricia Walsh-Smith — the estranged wife of rich guy theater mogul Philip Smith, who has been posting highly entertaining video rants on YouTube about their breakup — has taken her fight to The Insider. She is auctioning off her wedding dress on eBay in order to cover a $5,000 donation that she made to a charity for…