Here's something very nice for the sake of art and beauty: the trailer for David Byrne's forthcoming documentary, Contemporary Color.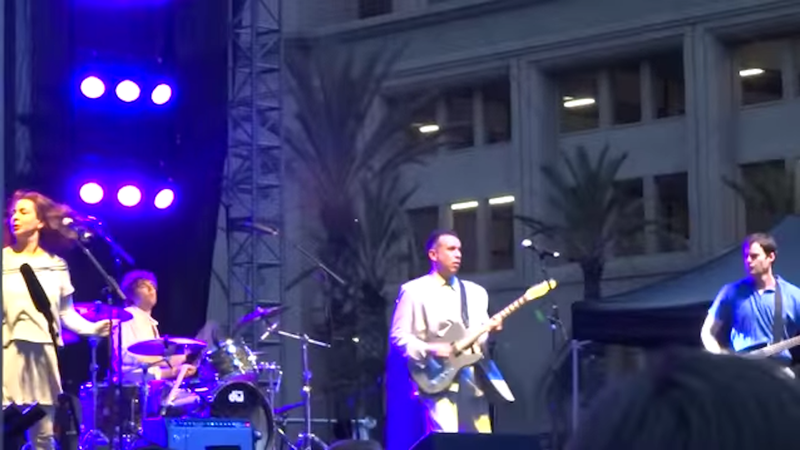 A few years ago I saw David Byrne and St. Vincent in concert and it was a.) a blessed dream and b.) probably the closest I will ever get to see the Talking Heads live. But! Fred Armisen, Maya Rudolph, and Bill Hader have united to form Test Pattern, a parodic homage to the Heads, and they are kick ass.

Hey, jealousy. The crowd at the Montreal Society for Arts and Technology KANPE KANAVAL benefit concert was transported to another plane of melodic euphoria when Arcade Fire's Win Butler, Régine Chassagne, and Richard Reed Parry united with David Byrne to perform songs from Talking Heads.

There will be more on this in Midweek Madness, but this is bananas: Star says that Chris Brown proposed to Rihanna in Miami. Secret wedding?!?! [Star]
In the September issue of Paris Vogue, a "Rock Couture" photo shoot featuring Agyness Deyn — shot by David Sims — is all about "masculine" fashion. Agyness takes this opportunity to channel some famous men, and she does it rather well! I took a stab at guessing which dudes she was trying to impersonate; check out the…
"Brace yourself for a shock, theatergoers. There's no delicate way of putting this. 'Cry-Baby,' the latest Broadway musical based on a John Waters movie, is... tasteless. Why aren't you shocked? Oh, I see. You thought that I meant the show that opened last night at the Marquis Theater was in bad taste....When I said…