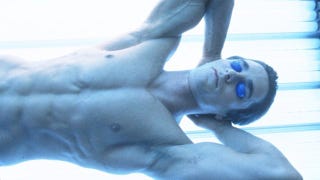 "Lauren" met "Mike" one night at the New York Philharmonic. Little is known about the exact nature of their interaction during their one date — though Lauren described it as "HORRIFIC" — but afterwards, Mike sent Lauren a 1605-word email reproach-cum-Jeremiad-cum-plea for a second date. It's now making the rounds,…
When Nik received a crap text about some dude's ex-girlfriend, she decided to cross-stitch it, resulting in this masterpiece. She writes, "Now I'm debating on whether to add an old-school border in a grandma-esque motif. Either way, it's getting mounted in a frame and hung on my apartment wall to remind me every day…
This Crap Email comes not from a reader, but rather SeattlePI, where one intrepid reporter is chronicling her adventures in the world of online dating. Unfortunately, one of these is more worst-nightmare — and results in a crappola missive of truly epic proportions.
After we noted that American Apparel is still experiencing pretty serious problems, spokeslawyer Peter Schey wrote in to set us straight on some stuff. And to say that "Abercrombie and Finch" totally had to pay a much bigger immigration fine!
We told Tyra yet again that she is no Oprah Winfrey. Learn it, live it, love it, Ty Ty. There is only one Winfrey.