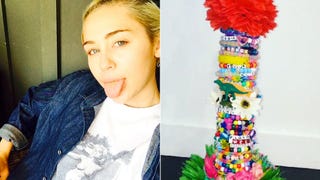 For weeks, incessant, confusing crafting has been the scourge of Miley Cyrus's Instagram feed. Turns out, it's all been warm up to a glorious final project: a 5-foot tall bong that Mme. Cyrus working toward all along.
Remember when we decided that Rick Santorum needed a uterus of his very own so he'd leave ours alone? Well, now there's a similar idea being proposed for the members of Congress across this great land who seem so insistent on getting all up in our lady parts since they're jealous they don't have any of their own. So…
Check out these meta twitter cross-stitch samplers from Julie Zidel, who, subversively, manages to stretch 140 characters into (one imagines) several hours of hard labor. [MediaBistro]
Alison Lewis wants to get women into crafting and electonics.