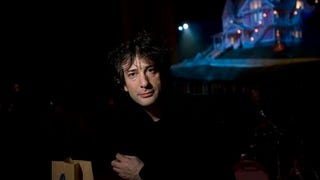 After reading the New Yorker profile on noted author Neil Gaiman, I want to know which "internet critics" said his fan base is made up of "Twee 'Bisexual' Goth Girls with BPD" so I can give them the finger.
People are excited about Toy Story 3. And Up made good money over the weekend. But NPR's Linda Holmes pleads to Pixar: "Please make a movie about a girl who is not a princess."
If you want a sweater like Coraline's you'll have to knit it yourself. Luckily, a pdf of the pattern has been put online. [EW]
Critics love Coraline, the first stop-motion animated film shot in 3-D, but warn that this dark, eerie adaptation of Neil Gaiman's young adult novel may leave kids and adults needing a therapy session.