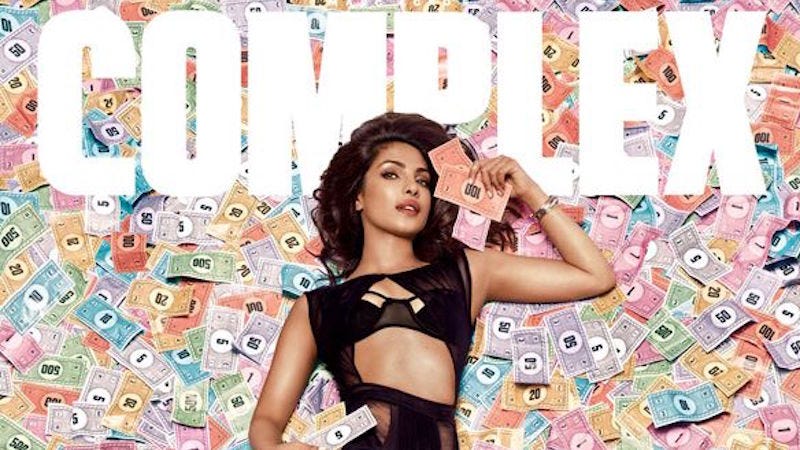 Quantico star Priyanka Chopra, who's on the cover of Complex laying in an ocean of money, wouldn't be satisfied just being a Bond girl.

Nick Jonas, haver of sex and singer of songs, is on the cover of the current issue of Complex stopping a car from plowing into him with nothing but the strength of his legs. In a way, the speeding car suddenly brought to a halt symbolizes all questions about the nature of his relationship with Instagram star Kate…
In May 2015, Ernest Baker, Drake-approved writer and self-appointed internet tastemaker, allegedly assaulted and harassed his ex-girlfriend, Complex Music managing editor Lauren Nostro. The news gained public attention Wednesday night after the pair's mutual friend, the writer Meaghan Garvey, vaguely tweeted about…
When the daily food intake of action star, professional wrestler and registered Republican Dwayne "The Rock" Johnson was published by Muscle & Fitness last month, it was pretty astonishing, to say the least. While no one probably expected the 6-foot-5, 260-pound actor to be chomping down on rice cakes and green tea,…
Zoe Kravitz, the daughter of two beautiful people and an entertainer in her own right, is featured on the April/May cover of Complex, where she talks about her battle with anorexia and bulimia as a teen and, ugh, the woes of having such gorgeous parents.
Nicki Minaj is by no stretch of the imagination a simple being. She is at once taunting the patriarchy and adhering to its rules; spouting boss lyrics and apologizing for follower moves; boasting sexual independence and releasing a track where her two "friends" talk about how much they'd like to sleep with her as if…
Ever the philanthropist, the young men's lifestyle mag Complex is determined to put an end to post-coital awkwardness on both sides. Um, thanks, Complex! Last month they called guys out on the top 10 cringe-worthy things they do after sackin' a lady, and now they've come back with 20—20!—theoretically ick-inducing …
Tale as old as time, true as it can be: Emma Watson will play Belle in a new live-action version of Beauty And The Beast, directed by Guillermo del Toro. We're not sure who will play the candlestick, or Gaston, or even if there will be a Gaston. But we do know that no one hits like Gaston, matches wits like Gaston,…
Ke$ha has five Top Ten hits and a new EP, but it's her thoughts that Complex magazine cares about. Her mind! And her thighs.
The PR honcho is so over revenge. In the contemporary Panopticon of social media, reality television, and e-mail forwards, Cutrone's rule is "don't ever put anything in writing and never say anything when anyone's around." Except for, apparently, this interview.
"There is nothing that I love more than a man that sees "ethnic" women as another check mark on an international bingo card." Sara from Muslimah Media Watch hysterically takes down Complex's "The 10 Hottest Muslim Women." [MMW]