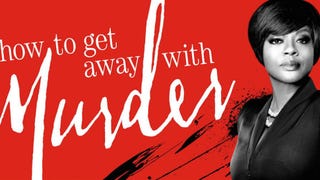 Last night on How to Get Away With Murder, Viola Davis' first season as television's best defense attorney Annalise Keating ended with a bang—or rather a choke—and left everyone screaming. I, alternatively, just clapped for the fabulous performances and masterfully hidden culprit. Honestly, I'm still kind of mad I…
Viola Davis already acts her ass off on How to Get Away with Murder, so it's a smart move pairing her with Cicely Tyson, who masterfully played Annalise Keating's mom on Thursday night's How to Get Away with Murder. The most intense moment in the episode was a scene where they addressed rape and molestation.
After weeks of having her house elves prettify the brownstone, last night was Carrie Bradshaw's $40,000-per-person fundraiser for President Barack Obama. Although pixie druid Matthew Broderick was not in attendance (occupied by a performance of his Broadway musical "Nice Work If You Can Get It"), the guests included …
Viola Davis, director Tate Taylor, and Octavia Spencer at the 43rd NAACP Image Awards. Images via Getty.
The BLUE Scholarship Gala to benefit Spelman College brought out heavy-hitters and glam threads. Oh, and a strange bird costume from Star Jones.
At the 41st Annual NAACP Image Awards, the stars didn't seem to stick to any patterns, showing up in brights, pastels, short dresses, long gowns, sleek suits, sparkles, and satin. A red carpet rundown, straight ahead: