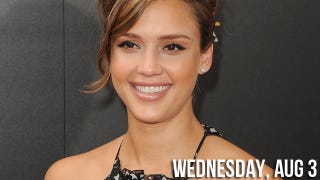 Have you been lying awake at night wondering how Jessica Alba will get thin again after giving birth to baby number 2 this month? Well: "I have a hard time with portion control, so I have 1,200 calorie meals delivered," she tells Lucky magazine. "But I also work out, so basically I'm starving. It sucks. I drink a lot…
Charlyne Yi claims that TMZ asked her to film a video promoting Oxfam, saying it wanted to do good for a change. She agreed, but TMZ edited the finished product to humiliate Charlyne and make fun of the charity.
Her impression of Brad Garett is terrible; her "original character" is totally bizarre. And by all this I mean: Adorable and totally refreshing! Clip above.
Mark Wahlberg married his longtime girlfriend Rhea Durham yesterday in a small ceremony in Beverly Hills. "She looked like a princess and beyond stunning. Mark looked ecstatic," says a source. So much for Nicole 4 Eva! [People]