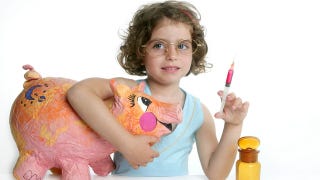 California Governor Jerry Brown just signed legislature that allows minors in the state to receive anti-STD vaccines without parental consent.
The HPV vaccine has been on the market since 2006, but as of last year, only 49% of girls have had their shots. Health officials are disappointed by the response, but they say there are several reasons the cervical cancer vaccine isn't catching on — including parents' refusal to acknowledge that one day their precious…
• A CDC advisory committee has recommended GlaxoSmithKline's HPV vaccine Cervarix, which is similar to Merck's Gardasil vaccine, for use in girls and women. But, some say Cervarix is overpriced because it offers less protection than Gardasil. •
• A DNA test of the skull fragment previously believed to be Hitler's has revealed it is actually a woman's. The find has raised questions about what happened to Hitler's remains and whether he really committed suicide. •
The World Health Organization has approved Cervarix, a second cervical cancer vaccine, made by GlaxoSmithKline. This will hopefully mean good things for women in developing countries.