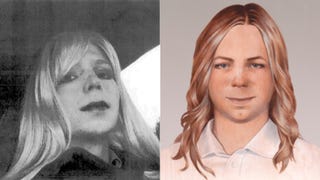 On Wednesday, Chelsea Manning revealed that her name has been legally changed to Chelsea Elizabeth Manning and expounded on the significance of the moment for her.
This morning, Army private Bradley Manning formally announced that she would be living the rest of her life as a woman named Chelsea, and would like to be referred to using female pronouns. This is an incredibly brave first step for anyone, but particularly for Manning, who is about to be sent to prison for the next…
Biologically male U.S. veterans are twice as likely as civilian men to identify as female and often decide to enlist to reassert their masculinity, according to a new, soon-to-be published study authored by former military psychologist George Brown, an Air Force vet who has been analyzing transgender military rates…
To some, he's a hero; to Palin, "an anti-American operative with blood on his hands"; to Italian Rolling Stone "rock star of the year"; to The Daily Beast "civilian porn star." Let's all come together — around Julian Assange's hair.