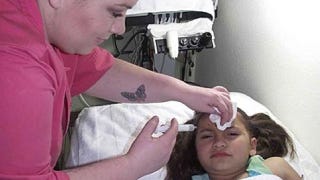 Good news: Sheena Upton is taking parenting classes.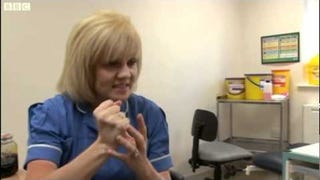 This week BBC3's answer to Teen Mom—Misbehaving Mums To Be—featured a 20-year-old who said smoking 3500 cigarettes while pregnant made her baby stronger. Smoking Mom is the new Botox Mom!
Leave it to the NMA animation team to hit all of the important parts of a news story. In their amusing reinterpretation of the "Botox Mom" story, the Good Morning America producers literally drool over the potential story, daughter Brittany is a literal wind-up toy, and Sheena Upton gets branded by a giant stamp…
More details emerge from the "Botox Mom" story this morning, if only because Good Morning America doesn't want to admit they'd been duped. Now, ABC is refusing to pay the British agency they bought the story from, and followed up with their sources who suggest this unsettling story absolutely is real.
Now that her daughter Britney has been removed from her custody, Kerry Campbell has finally realized that injecting her 8-year-old with botox is profoundly fucked up.
A week after Kerry Campbell defended giving her 8-year-old botox injections in a Good Morning America interview, Britney has been removed from her custody while the San Francisco Human Services Agency investigates the case. Radar Online reports that the child is being cared for by other members of her family; …