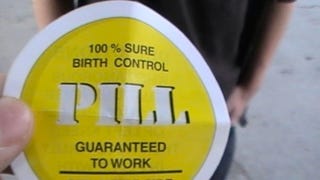 We hate to question the wisdom of gag gifts purchased for $1 at the gas station, but there are many people pushing this method of birth control, and so far it hasn't been all that successful.
A new C.D.C. report found that now 72% of women use condoms when they lose their virginity, up from 34% in 1985. However, the pill is still the most popular form of contraception overall, followed closely by sterilization. [NYT, HuffPo]
In a tribute to the birth control pill, which turns 50 years old today, CBS contributor Faith Salie argues that the pill not only revolutionized women's sex lives, but it also "produced better mothers: fulfilled women who deliberately created families."
[New York, 1974. Image via AP]
Though many women report that birth control pills lower their sex drive, they've had frustratingly little scientific support — but now a new study shows women on hormonal birth control actually are at higher risk for low libido.
As if you needed another reason to support a pro-choice, pro-contraception, pro-female health candidate in the upcoming election (not to mention in local races which are nearly as important), a 40-year study has concluded that taking the birth control pill cuts long-term risk of cancer — cancer of any kind, that is —…