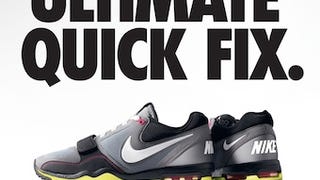 "Your suspicions are correct," emails Nike's PR. "The ad you questioned is not a Nike ad. It appears that the person who created it took the copy (with a typo) from our 2005 campaign." The current ad is body-part free.
It's time for another installment of Pot Psychology, the advice column in which everyone's problems are solved with an "herbal" remedy. (Remember, kids: Don't do drugs!) In this episode, Rich and I got help from our pal Sasha Frere-Jones, to tackle problems like reclusive behavior, definitions of words, and all the…
Dear Dr. Ronald Kahn of Harvard Medical School: Your new study is amazing. You found that subcutaneous fat (that's fat right under the skin, for those who don't know) which accumulates around the hips and bottom may offer protection against diabetes. Love it! See, researchers have always known that fat in the abdomen…
Slate, that bastion of current events and culture, tackles all the horny topics one could think of in their Sex Issue this week and thanks to the online magazine's editors and writers, we've learned a lot! Starting with...