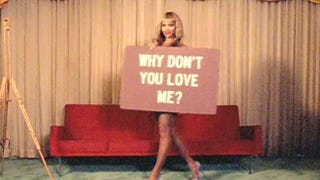 "Why don't you love me?" cries Beyoncé in her new video, which has a retro-Bettie-Page-pin-up look and involves the singer doing "domestic" chores like laundry, floor-scrubbing and baking. Oh wait, It's not Beyoncé. She's playing the part of "BB Homemaker."
Weird Elvis-'n-Nixon-style fun-fact: In an attempt to learn more about the bondage-photography scene, in 1957 J. Edgar Hoover (of course) had his spook contact the queen of pin-up herself. Bettie Page was more than accommodating! [TSG]
42-year-old Kristen McMenamy, whose deeply unconventional beauty shone in many of the most memorable fashion photographs of the early '90s, was chosen by Steven Meisel for the new cover of Italian Vogue. [FWD]
Newsweek has a roundup of famous people who died in 2008 — here are some of the ones we'll miss the most, along with a few additions from our archives.
Bettie Page, the iconic pinup and cult figure, died yesterday in Los Angeles, at the age of 85. She suffered a heart attack last week and had been in a coma ever since.
Pin-up legend Bettie Page has been hospitalized after a heart attack she suffered on Tuesday. The 85-year-old Page is being held in the intensive care unit, and is "critically ill." [NYTimes]