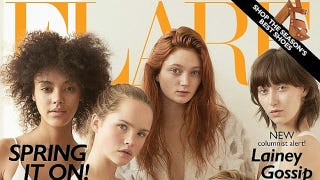 Hey, ladiiiiiiiiies? Don't you love feeling empowered? More specifically, don't you love feeling empowered by beauty brands and fashion magazines that are BOLD and BRAVE enough to depict models—normal, glowing, glamorous, youthful 5'11 models—in their natural state, without any makeup or photoshop, only in their high…
Beautiful, the Broadway musical about Carole King, is holding nationwide open casting calls for their touring production. If this isn't the beginning of a movie about a small town bartender who serenades her patrons with "So Far Away" while dreaming of the big time, I don't know what is.
As the clock ticks over to 12:11am (EDT) tonight, the world will experience the first full honey moon on Friday the 13th in almost 100 years. It will appear golden and huge in the sky, so pay attention because it will not happen again until June 2098. Also, remember to watch out for werewolves too.
Last night 32-year-old Kitty Hiccups, also known as David Hyland, beat out seven other contestants to be named this year's Miss'd America. The drag-queen competition started in 1993 and takes place the day after the Miss America Pageant.
At the Miss America pageant on January 15, Miss New York Claire Buffie will declare her support for gay rights. She says her sister and many friends are gay and she doesn't want to see them "treated as second-class citizens."
80s supermodel-turned-businesswoman Elle MacPherson will star in the CW's Beautiful as an 80s supermodel-turned-businesswoman. The show revolves around models living in agency housing. It'll be MacPherson's first television gig since her stint on Friends. [THR]