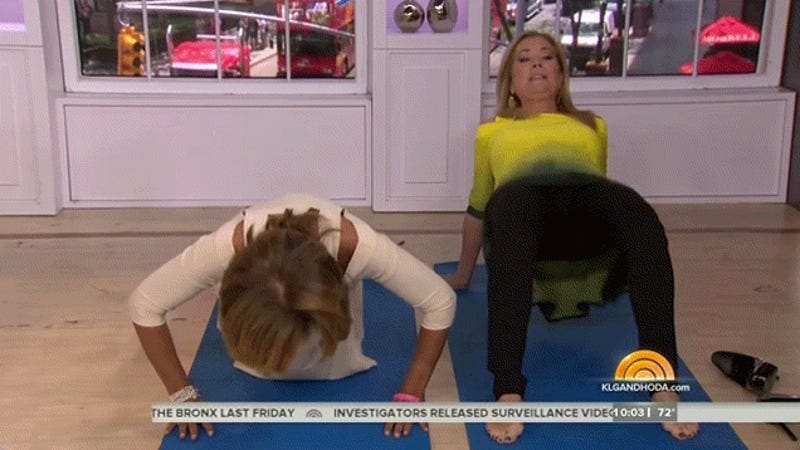 Friday morning on Today, Kathie Lee did something strange. Though the show's fourth hour is made up almost exclusively of Kathie Lee doing strange things, they rarely make for such compelling GIFs. What do you think she's doing in the above image: re-enacting a particularly odd labor? Attempting yoga but not paying…
Actor, heartthrob and possibly Michelle Rodriguez's boyfriend will be on the premiere of NBC's new show Running Wild with Bear Grylls running around, jumping off things and generally demonstrating that he's more than just a good dancer.
Last night at the Tate Modern in London, the Royal World Premiere of Skyfall took place. British red carpets are rather amusing: Prince Charles and Camilla, Duchess of Cornwall were rubbing shoulders with former Page Three gal Kelly Brook and tacky heiress Tamara Ecclestone. Most of the luminaries on hand looked…
Remember when we were all excited because we heard that Glee had hired new writers? Well those new peeps have arrived to write Rachel, Finn and Kurt off the show. Lea Michele, Cory Monteith and the exquisite Chris Colfer will graduate at the end of the fall season and will not return for the fourth season. My heart,…
Leggings! Drama! Lindsay Lohan and her BFF, a shaggy-haired dude named Patrick "Pootie" Aufdenkamp, had a falling out while on vacay in St. Barts.
• Richard Nixon apparently thought interracial pregnancy was grounds for abortion. On a newly released tape, he reportedly says, "There are times when an abortion is necessary. I know that. When you have a black and a white." •
Geek girls out there, prepare to wet yourselves: Jon Hamm is a self-proclaimed sci-fi, video game and comic book nerd. The Observer caught up with Jon outside the premiere of The Day The Earth Stood Still and witnessed this adorable exchange between Hamm and his girlfriend, Kissing Jessica Stein's Jennifer Westfeldt:…
Wow, Lindsay Lohan and Sean Penn nuzzled at a private dinner for Milk last week. Samantha Ronson was not present. What does it all mean? [Fox 411]