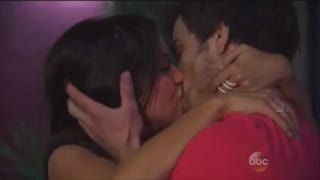 "I feel you are here to make out with a bunch of dudes on TV," Ian, a contestant on The Bachelorette this season, told Bachelorette Kaitlyn a few weeks back. Kaitlyn may have shut down Ian's criticism handily during that episode, but while Ian was wrong about her intentions, he wasn't wrong about her technique.
ABC has announced the cast for next season of The Bachelorette, and their biographies are as delightful as ever. Their favorite music. The favorite movies. Their biggest fears. Their heroes. Every single thing about every single bachelor is perfect. But before reading the bios in full, take our quiz to find out if you…
Thanks to bro folklore, movies like The Hangover, and simple observations, the association between bachelor parties and bad behavior is one that's deeply ingrained in America's cultural consciousness (yes, #notallmen, but certainly a lot of them). What we don't think of when we think of bachelor parties is prankery.
For those for whom People Magazine's Sexiest Men Alive issue isn't enough stereotypically hot actor man meat, Town & Country has just released their own list of the Top 50 Sexiest Bachelors living on earth right now. It's chock full of the usual array of aristocrats and European nobility...plus a few other interesting…
As you may know, handsome actor George Clooney, he of the chiseled jaw and charming eye crinkles, is dating the statuesque blonde former wrestler Stacy Keibler, who, despite what you might have heard, is not related to the cookie-making elves. However, it is unlikely that Clooney will get married, says his sister.…
A new Census Bureau report indicates that not only have the crapadelic economic circumstances of the last few years driven many young people to move back in with their folks, but that men have returned much more willingly to the hearthy teat than their female peers. In fact, one in five men between the ages of 25 and…
What, just two bachelors in their pajamas, riding around on an extremely phallic log with faceless centaurs in the background. Nothing homoerotic going on here, no sir!
No, we prefer men to bear large quantities of liquor. Maybe roofies. [VintageAds]
Despite the prevailing stereotype that women live in a candy-colored fantasy world with unrealistic relationship expectations, a new book by "playboy" Carl Weisman says that over 30% of confirmed bachelors avoid marriage because they "won't settle for anything less than perfection," reports Reuters. Weisman's book, So…